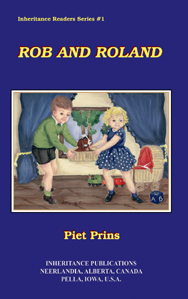 Rob and Roland by Piet Prins
Inheritance Readers Series #1
A little dog walked along the road.
A white dog with brown ears and a brown spot on his head.
It was a puppy.
But he was not happy.
He was hungry and there was nobody to take care of him.
Subject: Fiction Age: 7-8
ISBN 978-1-894666-32-9 Can.$7.95 U.S.$6.90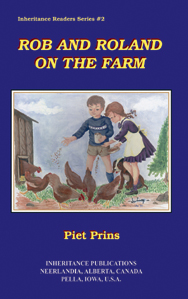 Rob and Roland on the Farm
by Piet Prins
Inheritance Readers Series #2
Two storks had built a nest with branches and straw on it.
Mother stork perched on the edge of the nest.
She kept watch over her children.
She also looked around at the wide world.
When you are so high, you can see far over the green pastures.
Subject: Fiction Age: 7-8
ISBN 978-1-894666-33-6 Can.$7.95 U.S.$6.90
Reprint!!!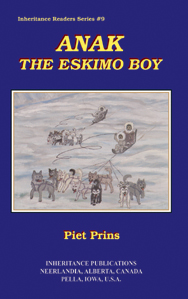 Anak, the Eskimo Boy by Piet Prins
Inheritance Readers Series #9
Another captivating story by one of the best-loved authors of juvenile literature in the Netherlands!
Far north, where the sun shines only part of the year, Anak and his family live with the rest of their Eskimo tribe near the Coronation Gulf. Anak experiences both adventure and danger as he learns how to hunt seals, caribou, and walruses; travels to the land of the white man; faces the threat of a bear attack; and accidentally drifts off to sea on an ice floe. As Anak confronts the challenges of Eskimo life, he learns important lessons about responsibility and dependence on God.
Subject: Mission / Fiction Age: 9-10
ISBN 978-0-921100-11-9 Can.$8.95 U.S.$7.90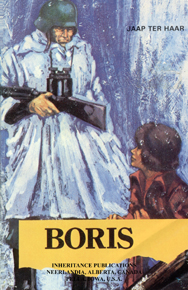 Boris by Jaap Ter Haar
It was hunger that drove 12-year-old Boris and his friend, Nadia, to forage for potatoes in the forbidden No-man's-land that lay between the Russian and German lines outside the besieged city of Leningrad. But the long walk in the bitter cold, through miles of ice and snow, was too difficult for Nadia. As she lay on the ice, collapsed from exhaustion, Boris was at his wits' end. When German patrol rescued the children and delivered them safely to the Russian lines, Boris learned that the hated enemy were not monsters — just ordinary men like any others — and that in war, everyone is the victim.
Set in Leningrad during the dreadful 500 days in 1942-43 when it lay under siege by the German army, Boris is the story of a courageous boy who faces the bitter life-and-death realities of war and human survival, and, with a growing sense of compassion for all mankind, looks hopefully toward the future when all men can lay down their arms and embrace one another as brothers.
"A beautifully realized parable of war, death, kindness, and endurance . . . enormously effective."
—School Library Journal
Jaap ter Haar was a Dutch historian who served in the World War II underground. Both his histories and his children's books have been translated into many languages and have received literary awards. Boris was chosen as Book of the Year in Holland and also won the Youth Award of the City of Rotterdam.
Time: 1942-1943 Age: 10-99
ISBN 978- 0-921100-72-8 Can.$11.95 U.S.$10.90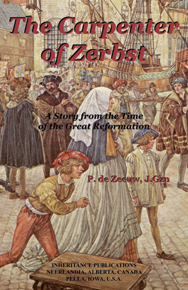 The Carpenter of Zerbst by P de Zeeuw, J.Gzn
A Story from the Time of the Great Reformation
Johan Tetzel, the indulgence pedlar, was coming to the town of Zerbst. However, Otto Maehler was forbidden to join the procession to meet this distorter of God's truth. Father Maehler called Tetzel a blasphemer and after going to the church to tell the people so, he lost favour with the town magistrates. Despite the fury of the magistrates, Father Maehler offered Martin Luther the cup of honour. But the consequences were harsh. Their lives were spared, but . . . Where had Martin Luther gone?
Join Otto's family as they cling to God's promises through all their grief and tension. Witness with joy the work of God in the lives of His children as well as in the lives of the enemies of the cross.
Another historical novel by P. de Zeeuw. Written in a fascinating way for children to learn church history. It will encourage them to remain steadfast in the faith and to confess with Martin Luther:
Here I stand!
I cannot do otherwise.
May God help me! Amen.
Time: 1517-1522 Age: 9-99
ISBN 978-1-894666-34-8 Can.$9.95 U.S.$8.90
Reprint!!!
The Farmer's Boy of Tagaste
by P. De Zeeuw
Now in its fourth Printing!
C. MacDonald in The Banner of Truth: Augustine was one of the great teachers of the Christian Church, defending it against many heretics. This interesting publication should stimulate and motivate all readers to extend their knowledge of Augustine and his works.
J. Sawyer in Trowel & Sword: . . . It is informative, accurate historically and theologically, and very readable. My daughter loved it (and I enjoyed it myself). An excellent choice for home and church libraries.
Time: a.d. 354-430 Age: 9-99
ISBN 0-921100-05-1 Can.$7.95 U.S.$6.90
THE CZAR by Deborah Alcock
A Tale of the Time of the First Napoleon
As, with a hand still trembling, Clémence poured out the tea, she remembered the stories she had heard of such evening visits made by the Czar, "to talk at his ease," and recalled the words of De Maistre when someone criticised this habit in his presence: "It is a touching thing to me to see the ruler of a great empire, in the age of all the passions, find his recreation in taking a cup of tea with an honest man and his wife."
Ivan Ivanovitch Pojarsky, an orphaned Russian Prince, adopted by loyal people in the village of Nicolofsky meets the great Czar Alexander of Russia while the Czar does his best to bring back to life a seemingly dead carpenter. This historical fact, and many others related in this captivating story, gives a very accurate picture of the life in Russia during the time of Napoleon.
Time: 1795-1825 Age: 14-99
ISBN 978-1-894666-11-4 Can.$19.95 U.S.$17.90
Life in the Eagle's Nest by Charlotte Maria Tucker (A.L.O.E.)
A Tale of Afghanistan
Afghanistan! To many an uncivilized land of terror and hatred. To others a land of intrigue and adventure. A land where few dare to tread. Go with Walter Gurney, the seventeen-year-old orphan son of a British missionary in India, who, after meeting handsome, boastful Dermot Denis, joined him on a trip into Afghanistan. Negating the danger of such a perilous trip, Walter eased his conscience with the thought of evangelizing. Infected with the exultation of his companion, nothing for the time seemed more enjoyable than this wild foray into a dangerous land. Yet within a few days they were surprised by a brutal group of Pathan Afghans. Despite his companion's ridicule and the danger lurking in his path Walter knew that nothing could separate him from the love of Christ. God's will always comes to pass and as God's child he was safe in the arms of his Saviour. Will Walter be able to hold on to this faith when pressed by a Moslem Holy man? Will Sultána, the daughter of the chief, be able to help him and her people in the Eagle's Nest? Witness with Walter the blessings of God in bringing His Gospel to hungry hearts in ways unimaginable by men.
Subject: Mission / Fiction Age: 11-99
ISBN 978-1-894666-29-9 Can.$11.95 U.S.$10.90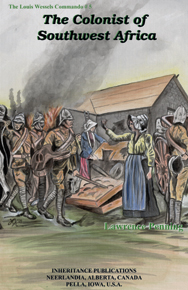 The Colonist of Southwest Africa
by Lawrence Penning
After three years of fighting, the Boer War was nearing its bitter end. Even though the Boer armies seemed defeated by the superior British armed forces, many Boer commandoes refused to give up and continued to strike at the English military. The enemy's retaliation was horrible. Systematically the Rednecks combed out the country: farms were burned and the women and children were taken to concentration camps. Malnourished, neglected, and ravaged by Typhus fever, thousands died in those camps.
Under the leadership of Louis Wessels, a commando planned a rescue, but with difficulties and traitors abounding, failure and capture were imminent realities. Was escape still possible? Could comfort be found in the words of the field preacher who not only condemned England's insults and scorn heaped on the Boer entreaties for help, but also entreated his fellow Christians to throw dust and ashes on their heads "for we and our fathers — we have sinned grievously! We have erred. We have served alien gods, and now the Lord is visiting us with His scourge." Addressing the Boers, and also the British doctor, the field preacher concluded, "Brothers, let us be silent in this oppression. Let us confess our sins and lift our penitent hearts in prayer to the hills from whence our salvation will come."
This last volume of the Louis Wessels Commando series brings the dark reality of the Boer War into stark focus. May the words of the field preacher never need to be addressed to us.
The Louis Wessels Commando # 5
Time: 1901-1902 Age: 11-99
ISBN 978-1-894666-95-4 Can.$11.95 U.S.$10.90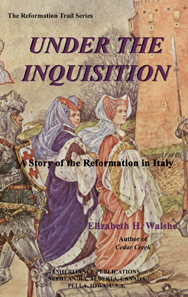 Under the Inquisition
by Elizabeth H. Walshe
The Reformation Trail Series
A Story of the Reformation in Italy
"You have forgotten that you should confess Christ's Name; and do you not remember, O deluded people, that whoever confesses not Christ upon earth, shall be denied by Him before His Father and the holy angels? Certainly you are not alone in this backsliding. There may be some in our valleys of the Alps who carry with them certificates that they are genuine papists, and have their children baptized by priests with all the mummeries of superstition, yes, and go to the so-called sacrifice of the mass, openly bowing the knee to Baal, that they may be seen of men; and they excuse themselves — verily a fancied excuse! — by saying secretly when they enter the mass house, 'Cave of robbers, may God confound you!' I have heard that similar practices extend even here. My brothers, such duplicity is intolerable to the righteous Lord. Do you think that He will not protect the men who range themselves under His banner against Antichrist, in the face of all the world? I tell you, that if all the devils on earth and in hell were leagued to destroy you, mightier is He that is for you than all that can be against you! Your Father can sheath the sword and quench the faggot of the persecutor, if it is His will; and if it is not His will — O servants of Christ! Will there not be a quicker entrance into the joy of your Lord, and a more dazzling crown of glory!"
Sobs and moans came from that excitable southern audience; glowing eyes, betokening glowing hearts, met the youthful preacher's every look.
. . . Thus Paschali enunciated the principles which were to guide his ministry.
Time 1554-1563 Age: 14-99
ISBN 978-1-894666-30-5 Can.$17.95 U.S.$15.90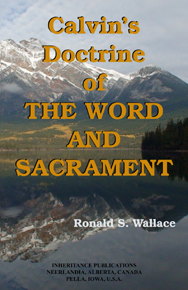 Calvin's Doctrine of the Word and Sacrament
by Ronald S. Wallace
This is a careful and fresh study of Calvin's Commentaries, Institutes, Sermons, and Tracts designed to meet the practical needs of those who wish clarification of the doctrines which lie behind traditional Reformed church practice. The book is also valuable for the insight it gives into Calvin's method of interpreting Scripture, especially the Old Testament.
In the preface the following two sentences aptly sum up the content and purpose of the work: "What is most important in the study of Calvin today is to reveal what the Reformer himself actually said, in order that misconceptions about his teaching may be cleared away. Therefore this work is not a critical study of Calvin but an attempt to express his teaching as copiously, fairly, and sympathetically as possible."
Look at Table of Contents page 1
Look at Table of Contents page 2
Look at Table of Contents page 3
Look at Table of Contents page 4
Look at Table of Contents page 5
Look at Table of Contents page 6
Subject: Bible and Sacraments Age: 16-99
ISBN 978-1-894666-50-3 Can.$17.95 U.S.$16.90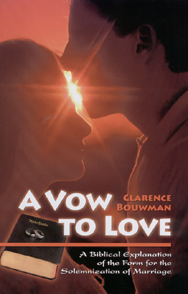 A Vow To Love
by C. Bouwman
In this publication the author takes us through the Bible to discern what God's plan for marriage initially was, how the fall into sin has twisted marriage, and how God's plan has been restored through the work of the Lord Jesus Christ. In the process he discusses the role of husband and wife in marriage, the permanence of marriage and how to overcome trouble in marriage, the place of sexual intimacy, the timing and size of the family, the impact of immorality on marriage, and so much more. He concludes that the church's time-tested Form for the Solemnization of Marriage accurately summarizes God's answers to the many questions facing those who marry today.
Clarence and Arlene Bouwman recently celebrated their silver wedding anniversary together with their six children. In the years of their marriage, the author has served as minister of the Word of God in four congregations in Canada and Australia, currently serving as minister of the Canadian Reformed Church of Yarrow, British Columbia. He has written several other publications, including The Overflowing Riches of my God (an explanation of the Belgic Confession), Notes on the canons of Dort, Spiritual Order for the Church (the Biblical basis of the Church Order) and To Live is Christ (sermons on the Letter to the Philippians.)
U.S.$12.00