SCHILDER, KLAAS - DE REFORMATIE 1920-52
E-BOOK PDF27V - E-BKPDFAREF1920-52 - US$100.00
SCHILDER, KLAAS - DE REFORMATIE 1920-21 E-BOOK PDF - E-BKPDF REF1920-21 - US$ 6.00
SCHILDER, KLAAS - DE REFORMATIE 1920-29 E-BOOK PDF 9V - E-BKPDF9REF1920-29 - US$ 40.00
SCHILDER, KLAAS - DE REFORMATIE 1921-22 E-BOOK PDF - E-BKPDF REF1921-22 - US$ 6.00
SCHILDER, KLAAS - DE REFORMATIE 1922-23 E-BOOK PDF - E-BKPDF REF1922-23 - US$ 6.00
SCHILDER, KLAAS - DE REFORMATIE 1923-24 E-BOOK PDF - E-BKPDF REF1923-24 - US$ 6.00
SCHILDER, KLAAS - DE REFORMATIE 1924-25 E-BOOK PDF - E-BKPDF REF1924-25 - US$ 6.00
SCHILDER, KLAAS - DE REFORMATIE 1925-26 E-BOOK PDF - E-BKPDF REF1925-26 - US$ 6.00
SCHILDER, KLAAS - DE REFORMATIE 1926-27 E-BOOK PDF - E-BKPDF REF1926-27 - US$ 6.00
SCHILDER, KLAAS - DE REFORMATIE 1927-28 E-BOOK PDF - E-BKPDF REF1927-28 - US$ 6.00
SCHILDER, KLAAS - DE REFORMATIE 1928-29 E-BOOK PDF - E-BKPDF REF1928-29 - US$ 6.00
SCHILDER, KLAAS - DE REFORMATIE 1929-30 E-BOOK PDF - E-BKPDF REF1929-30 - US$ 6.00
SCHILDER, KLAAS - DE REFORMATIE 1929-38 E-BOOK PDF 9V - E-BKPDF9REF1929-38 - US$ 40.00
SCHILDER, KLAAS - DE REFORMATIE 1930-31 E-BOOK PDF - E-BKPDF REF1930-31 - US$ 6.00
SCHILDER, KLAAS - DE REFORMATIE 1931-32 E-BOOK PDF - E-BKPDF REF1931-32 - US$ 6.00
SCHILDER, KLAAS - DE REFORMATIE 1932-33 E-BOOK PDF - E-BKPDF REF1932-33 - US$ 6.00
SCHILDER, KLAAS - DE REFORMATIE 1933-34 E-BOOK PDF - E-BKPDF REF1933-34 - US$ 6.00
SCHILDER, KLAAS - DE REFORMATIE 1934-35 E-BOOK PDF - E-BKPDF REF1934-35 - US$ 6.00
SCHILDER, KLAAS - DE REFORMATIE 1935-36 E-BOOK PDF - E-BKPDF REF1935-36 - US$ 6.00
SCHILDER, KLAAS - DE REFORMATIE 1936-37 E-BOOK PDF - E-BKPDF REF1936-37 - US$ 6.00
SCHILDER, KLAAS - DE REFORMATIE 1937-38 E-BOOK PDF - E-BKPDF REF1937-38 - US$ 6.00
SCHILDER, KLAAS - DE REFORMATIE 1938-39 E-BOOK PDF - E-BKPDF REF1938-39 - US$ 6.00
SCHILDER, KLAAS - DE REFORMATIE 1938-52 E-BOOK PDF 9V - E-BKPDF9REF1938-52 - US$ 40.00
SCHILDER, KLAAS - DE REFORMATIE 1939-45 E-BOOK PDF - E-BKPDF REF1939-45 - US$ 6.00
SCHILDER, KLAAS - DE REFORMATIE 1945-46 E-BOOK PDF - E-BKPDF REF1945-46 - US$ 6.00
SCHILDER, KLAAS - DE REFORMATIE 1946-47 E-BOOK PDF - E-BKPDF REF1946-47 - US$ 6.00
SCHILDER, KLAAS - DE REFORMATIE 1947-48 E-BOOK PDF - E-BKPDF REF1947-48 - US$ 6.00
SCHILDER, KLAAS - DE REFORMATIE 1948-49 E-BOOK PDF - E-BKPDF REF1948-49 - US$ 6.00
SCHILDER, KLAAS - DE REFORMATIE 1949-50 E-BOOK PDF - E-BKPDF REF1949-50 - US$ 6.00
SCHILDER, KLAAS - DE REFORMATIE 1950-51 E-BOOK PDF - E-BKPDF REF1950-51 - US$ 6.00
SCHILDER, KLAAS - DE REFORMATIE 1951-52 E-BOOK PDF - E-BKPDF REF1951-52 - US$ 6.00
Individual volumes of / Losse Jaargangen van
De Reformatie
Now available as PDF (& uncorrected RTF) download @ US$6.00 per volume
Nu verkrijgbaar als PDF (& niet gecorrigeerde RTF) download @ US$6.00 per jaargang
on / op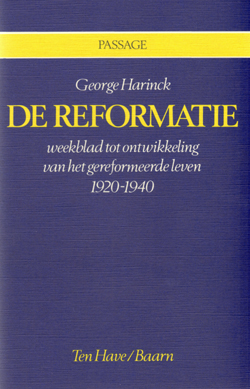 George Harinck
DE REFORMATIE
weekblad tot ontwikkeling
van het gereformeerde leven
1920-1940
A very informative book in Dutch about the first 20 Years of De Reformatie.
US$34.95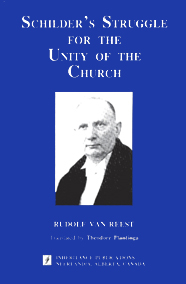 Schilder's Struggle for the Unity of the Church by Rudolf Van Reest
Klaas Schilder is remembered both for his courageous stand in opposition to Nazism, which led to his imprisonment three months after the Nazis overran The Netherlands in 1940, and for his role in the Church struggle in The Netherlands, which culminated in 1944 with the suspension of scores of office-bearers and the formation of the liberated Reformed Churches.
Thomas Vanden Heuvel in The Outlook: I strongly recommend this book for everyone interested in the preservation of and propagation of the Reformed faith.
Time: 1890-1952 Age: 16-99
Paperback ISBN 1-894666-79-8 US$19.95
Cloth ISBN 1-894666-79-8 US$29.90