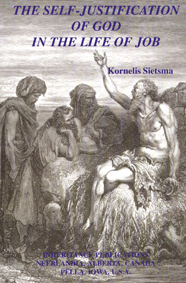 The Self-Justification of God in the Life of Job
by Kornelis Sietsma
Christine Farenhorst in Christian Renewal: While reading these sermons both my husband and myself became convinced of the fact that Rev. Sietsma was a compassionate and caring shepherd. His concern for and knowledge of the sheep in his care is obvious. The message of the all-powerful providential hand of God, so necessary for our own time, is conveyed.
Subject: Book of Job Age: 16-99
ISBN 0-921100-24-8 US$10.95
Sample intro and verse of the Dort Study Bible
2 Samuel 23
The last words of David, in which he testifies of his calling from God to the royal and prophetical office, v. 1. He prophesies of the Messiah Jesus Christ, and the blessed salvation under His reign, with the acknowledgment of the faults of his house, and a confession of his confidence in God's everlasting covenant of grace, v. 3. He announces everlasting destruction to the ungodly, v. 6. A history of David's heroes and their courage, v. 8.
1. Moreover, these are the last words1 of David. David the son of Jesse says, and the man who was raised up on high, the anointed2 of the God of Jacob, and pleasant in Psalms3 of Israel, says:
1 Before his death, according to the example of Jacob in Gen. 49, and of Moses in Deut. 32 & 33.
2 Lifted up from low conditions and anointed as king over the people of God.
3 Which he wrote for the church of God by the inspiration of the Holy Spirit.