Always Ready - Directions for Defending the Faith
by Greg L. Bahnsen
As unbelief grows more intense, baring its ferocious teeth, we need more than ever the tools found in this volume. By employing them you will be able to remove the fangs of anti-Christianity with grace, love, and a nuclear arsenal. Read this book, then read it again. You will find yourselves "armed to the teeth" and always ready. Steve M. Schlissel
Subject: Defending the Faith Age: 16-99
ISBN 0-915815-28-1 US$14.95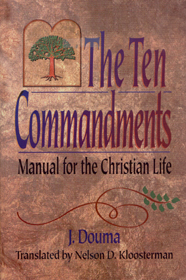 The Ten Commandments Manual for the Christian Life
by J. Douma; Translated
by Nelson D. Kloosterman
This treatise has all the strengths of the best Dutch Reformed theology: exact learning and cool clarity, academic acumen and down-to-earth wisdomand the author's touch is sure as he applies the Word of God to modern life. Douma's book must take its place as a standard resource, and all who work their way through it will find themselves very much enriched. James I. Packer
Subject: Christian Ethics Age: 15-99
ISBN 9780875522371 - US$ 24.99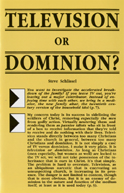 Television Or Dominion
by Steve Schlissel
Television is a blood-sucking parasite, at least when the set is switched on!
Subject: Television Age: 12-99
ISBN 0-921148-17-8 US$3.50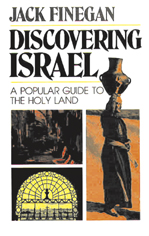 Discovering Israel by Jack Finegan
A popular guide to the Holy Land.
Subject: Israel Age: 14-99
ISBN 0-8028-1869-2 US$7.95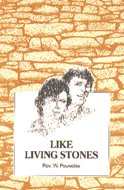 Like Living Stones by W. Pouwelse
Reflections on ethical issues such as: Marriage and Family life; Marriage and Divorce; Drugs; The Borderline of Human Life; Test-tube Babies; Organ Transplants; Capital Punishment; War and Disarmament.
Subject: Christian Ethics Age: 14-99
ISBN 0-88756-030-X US$9.75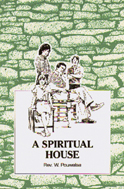 A Spiritual House by W. Pouwelse
Reflections on ethical issues such as: The Relationship between Family and School; The Position of Adopted Children; The Position of Handicapped Children; The position of Elderly People; Organized Labour; The Importance of Prayer.
Subject: Christian Ethics Age: 14-99
ISBN 0-88756-032-6 US$9.75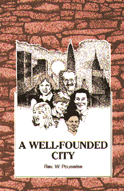 A Wellfounded City by W. Pouwelse
Sojourners and Citizens; God's Providence and our Responsibility; Revelation Versus Speculation; Through Love be Servants; Being a Living Member; Entertainment; The Keys of the Kingdom; Human Intelligence Versus Computer Logic; Moral and Social Implications of the Computer; Health and Environment; Aging and Health; Dealing With Grief.
Subject: Christian Ethics Age: 14-99
ISBN 0-88756-051-2 US$10.75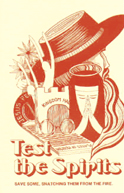 Test the Spirits by J. Faber, W. Huizenga, Cl. Stam, C. Van Dam, and G. Van Dooren
A series of essays about sects and ideas which confuse the mind of the believer. Sects and ideas dealt with are: Jehovah Witnesses; Neo-Pentecostalism; Horizontalism; Mormonism; Roman Catholicism; Dispensationalism.
Subject: Sects Age: 13-99
ISBN 0-88756-011-3 US$9.75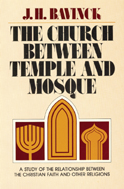 The Church Between Temple and Mosque
by J.H. Bavinck
A study of the relationship between the Christian faith and other religions.
Subject: Religions Age: 16-99
ISBN 0-8028-1009-8 US$6.95
Good Friday - Poems on Christ's Suffering by Jeremias De Decker
A translation of poems by the Dutch poet De Decker who was a friend of Rembrandt. The poems are introduced by the translator, Henrietta Ten Harmsel. Also included in the appendix is the Dutch original text with footnotes.
Subject: Suffering of Christ Age: 14-99
ISBN 0-88815-068-7 US$9.95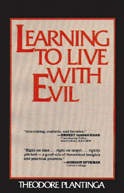 Learning to Live with Evil
by Theodore Plantinga
According to the author, evil is a very real entity, a consequence of sin and God's hand of judgment on a fallen world, which may not be ignored or explained away, but which must be confronted, recognized for what it is, and challenged.
Subject: Good & Evil Age: 16-99
ISBN 0-88815-917-6 US$7.95
Basic Concepts in Christian Pedagogy
by Jan Waterink
Education is the forming of man into an independent personality serving God according to His Word, able and willing to employ all his God-given talents to the honour of God and for the well-being of his fellow-creatures, in every area of life in which man is placed by God. Jan Waterink
Subject: Education Age: 16-99
ISBN 0-88815-079-2 US$4.95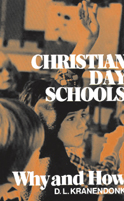 Christian Day Schools - Why and How
by D.L. Kranendonk
This book is an attempt to show that there is a Christian alternative view of life that can give us an understanding of the fundamental problems of education.
Subject: Education Age: 18-99
ISBN 0-88815-016-4 US$6.95
Rationale for a Christian College
by Theodore Plantinga
To discuss the idea of a Christian college is to think about both "curriculum" and "community." This short book is a down-to-earth exposition of the plan for a Christian college.
Subject: Education Age: 18-99
ISBN 0-88815-084-9 US$5.95