Complete Bach Edition
on 157 Compact Discs
Including more than 16,800 pages of Sheet Music (PDF format on DVD Rom) & 2 DVDs
US$259.95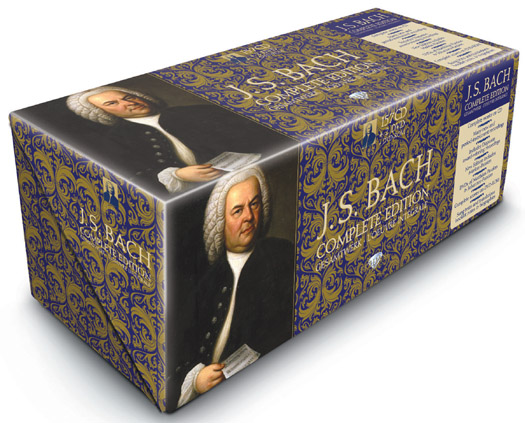 BACH COMPLETE WORKS 157 CDs + 3DVDs - BACH, J.S. - US$259.95
The Complete Bach Edition has been an international hit, winning plaudits from critics and customers alike for the quality of the music making and representing great value for money.
157 CDs representing the entirety of Johann Sebastian Bach's oeuvre in historically informed performances. This includes all 200 sacred cantatas on 60 CDs recorded for Brilliant Classics on period instruments and sung by the Holland Boys Choir. Also featured are performances by such outstanding soloists and ensembles as:

* Christoph Prégardien, Lynne Dawson, Pieter-Jan Belder, Emma Kirkby, Lucia Popp, Michael Chance, Edith Mathis, Jaap ter Linden, Johannette Zomer, Bob van Asperen, Diego Fasolis, Peter Schreier, Mark Lubotsky

* The Choir of King's College (Stephen Cleobury), Vienna State Opera Chorus, Coro della Radio Svizzera, Lugano; Holland Boys Choir

* The English Chamber Orchestra, Musica Amphion, Brandenburg Consort, Berliner Solisten, Soloists of the Freiburger Barockorchester

Two of the CDs contain the St. Mark Passion, reconstructed by Dr Simon Heighes and performed by the European Union Baroque Orchestra, conducted by Roy Goodman.

2 DVDs of the St. Matthew and St. John Passions

1 DVD-ROM containing the complete scores (Alte Bach-Gesamtausgabe 1899: 16,800 pages of PDF sheet music, printable, 300dpi including index), liner notes and performers' biographies in English, cantata texts in German and French, complete 2010 Brilliant Classics catalogue
A new, redesigned packaging means CDs in slipcases and the complete set neatly displayable in a single, attractive space-saving box.
All the above still available at a very affordable price.
FOR 24 YEARS OUR FAMILY HAS ESTABLISHED A RICH TRADITION OF PLAYING ONE OR TWO CDS WITH BACH CANTATAS EVERY SUNDAY!
For reasons of completeness, pure musical enjoyment, scholarly research, attractive, space-saving design and price, you cannot afford to be without this Complete Bach Edition.
BACH COMPLETE WORKS 157 CDs + 3DVDs - BACH, J.S. - US$259.95