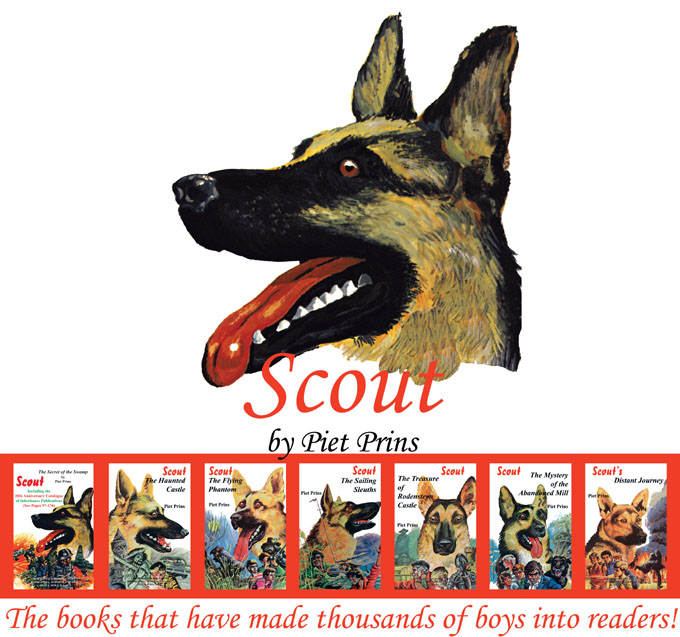 Buy all Seven Books in the Scout Series and save 15%.
Normal Price: US$76.30
Special Price: US$64.90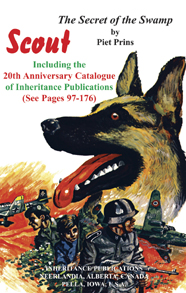 Subject: WW II / Fiction
Age: 9-99
ISBN 978-0-921100-50-7
Retail Price: US$10.90
Scout:
The Secret of the Swamp
by Piet Prins
A story about World War II.

This book includes our 20th Anniversary Catalogue and is therefore US$10.90 You need to order at least one other book for every free copy.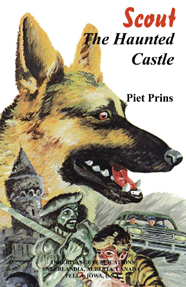 Subject: Fiction
Age: 9-99
ISBN 978-1-894666-44-5
Retail Price: US$10.90

Scout:
The Haunted Castle
by Piet Prins

Tom and Scout are on vacation with Tom's two best friends, Carl and Bert, and his sisters, Ina and Miriam. On their rambles through the woods, the group of young people are stopped one day by customs officials. They are accused of being in league with a gang of criminals who are smuggling goods across the nearby German border. Scout's reputation as a tracking dog has preceded him, and soon the young people are helping both the police and the customs officials. The mystery of the haunted castle, a coded message hidden under a tree, a gang of smugglers that can vanish at will, a burglary without clues — they all come together when Tom and Scout tumble over a four-hundred-year-old secret. Suddenly, however, Tom is no longer looking for adventure but fighting for his very life.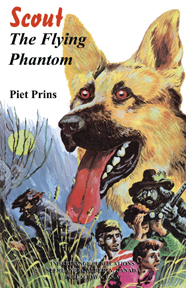 Subject: Fiction
Age: 9-99
ISBN 978-1-894666-44-5
Retail Price: US$10.90

Scout:
The Flying Phantom
by Piet Prins

When Tom and his friends Bert and Carl set out on an adventure over spring vacation, they are only looking for a good time. But soon a series of baffling events draws them inexorably into another mystery.

What connection is there between a dangerous poacher, a police cap on top of a tower, a host of unsolved burglaries, and a mysterious fire? Is the fearsome character who walks on the swamp the ghost of the legendary Flying Phantom? Or is it something or someone else?

Join the boys, Tom's dog, Scout, and their mutual friend Captain Brandenburg as they muster courage, tenacity, and wit to track a very unusual kind of criminal.


Subject: Fiction
Age: 9-99
ISBN 978-1-894666-46-1
Retail Price: US$10.90
Scout:
The Sailing Sleuths
by Piet Prins
While Tom and his two friends are making plans for a vacation, Carl's father announces that he has acquired a sailboat, as part of a business deal. The three boys see the chance for a very unusual holiday.

Their peaceful sailing trip is sabotaged when they run into a gang of notorious carnival followers who put on sidewalk shows as a cover for more profitable sidelines. After a confrontation with the gang, the three sailors and Scout find themselves in trouble with the police. Their attempt to clear themselves leads to a wild chase through rivers, canals, and lakes. When at last the boys come face to face with the gang and its ruthless leader, they are stranded on an island in the middle of an isolated lake. In the showdown they are all alone — except for Scout.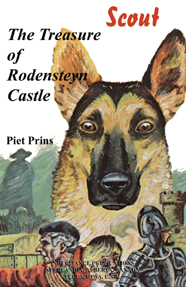 Subject: Fiction
Age: 9-99
ISBN 978-1-894666-47-X
Retail Price: US$10.90
Scout:
The Treasure of Rodensteyn Castle
by Piet Prins
When they are invited to spend a few weeks with Uncle Arnie at the seashore, little do Tom, Carl, and Bert realize that they will be staying in the hunting lodge of a medieval castle. Uncle Arnie is quite a storyteller. Soon the boys find their imaginations and the lodge peopled with ghosts from Rodensteyn Castle, a castle long ago buried under the sand. But do ghosts leave tracks, tracks that Scout follows into the sea? Are the legends of the ghost of Sir Isobald and the treasure of Rodensteyn Castle true? Is it a ghost that Tom spots in the dunes at night? Can Scout's nose, no matter how keen, help the boys solve a mystery over 400 years old? Past and present, fact and fiction merge as Tom and his friends search for a treasure that has outlasted the ages.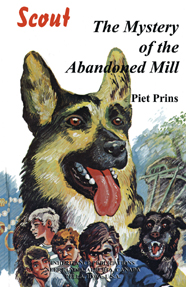 Subject: Fiction
Age: 9-99
ISBN 978-1-894666-48-8
Retail Price: US$10.90

Scout:
The Mystery of the Abandoned Mill
by Piet Prins
Tom, Carl, and Bert are spending the summer on the farm. One day they run into a large, surly man with a black monster of a dog. Scout and the black dog are enemies at first sight. The man arouses the boys' suspicions at once. He is no ordinary vacationer. When Scout pulls a boy from the river, the boys make a friend. From the boy's mother they hear a story about the abandoned mill and a missing treasure. The story draws them into an adventure that sets the boys on a collision course with the dangerous man and his equally dangerous dog. Trying to play the master detective, Tom leads his friends into a desperate situation. Can they stop Scout from clashing with the powerful black dog as he rushes to their aid? After all their hard work, will the boys lose the treasure after all? Worse yet, will the crook decide to kill the only witnesses to his crime?

Subject: Fiction
Age: 9-99
ISBN 978-1-894666-49-6
Retail Price: US$10.90




Scout's
Distant Journey
by Piet Prins
Scout's seventh adventure reacquaints us with his three friends and introduces some new characters. One is Uncle Bob, long absent in North America but now back in the old country where he and his wife settle into a small but honest-to-goodness castle! Naturally Tom and his friends, including Scout, are invited to spend the summer holidays at Uncle Bob's intriguing house. Actually, the invitation is more like a challenge: Uncle Bob pretends to have a low opinion of "modern youth;" he thinks they're soft and over-pampered. To prove him wrong, Tom and his friends decide to travel on foot. But on the journey, little goes right: disasters dog their footsteps and danger is their constant companion . . . Their arrival marks both victory and defeat . . .



Buy all Seven Books in the Scout Series and save 15%.
Normal Price: US$76.30
Special Price: US$64.90

About the Author
Piet Prins (pen name for Pieter Jongeling 1909-1985)

Mr. Jongeling was born in the northern part of The Netherlands and studied to become a teacher. He indeed did teach for some years, but soon became the international correspondent of a Dutch newspaper. In 1942 he was arrested by the Germans and sent to a concentration camp. After the allied victory in 1945 he returned to The Netherlands and became one of the most important journalists and politicians in The Netherlands. For many years he was the editor of a Reformed Christian daily newspaper, in which he wrote most of his children's books as serials under the name Piet Prins. The first thing many people read when the newspaper arrived was these serials. In 1963 Mr. Jongeling became member of the Dutch parliament for the Reformed Political Alliance. One commentator mused: "What makes Jongeling such a remarkable parliamentarian? That's simple. The man works like a horse! He is always fully informed. When Jongeling speaks, the house listens."

Both as a journalist and a statesman, Pieter Jongeling knew himself bound by the inspired Word of God and as such his labour has born much fruit.