THE AUTHOR OF THE SPANISH BROTHERS
(DEBORAH ALCOCK)
HER LIFE AND WORKS
by
ELISABETH BOYD BAYLY
Author of 'Jonathan Merle,' 'Alfreda Holme,' 'Under the She-oaks,' etc.
Hear ye not the voices ringing down the ages —
Echoing still the message, though their task be done —
Voices, born of heroes, monarchs, poets, sages,
Yearning still to share the wisdom they had won!
* * * * * *
Yet the Cloud of Witness solemnly advances,
Widening as each clarion-voice is hushed in death below.
[originally published in 1914 by Marshall Brothers, Ltd, London, Edinburgh, New York]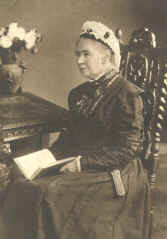 PREFACE
The practised writer is always conscious of his audience, as well as of his subject. The present writer has been far too long out of practice — fast bound by dearer tasks — to have power to realize any audience, save those for whom this book was written. Those who knew and loved Miss Alcock herself.
The world-wide circle of those who know and love her through her books.
Her comrades in the Enchanted Land of Dreams, who know, as she did, the bliss, the pangs and the temptations of the Life of the Imagination.
And those who, like her, have often to say to the Master, "Deep-wounded souls to Thee repair" — wounded in the desperate fight for faith, and yet victorious.
Or if they are not victorious, yet long to be — may they here find a touch of sympathy in one who never shirked a hard question — always looked it in the face. Outwardly, hers was only a woman's quiet life of love: inwardly, she had to "climb the mountains, plunge the deep"; and the message she brought back was that "Nor height nor depth is able to separate us from the love of God, which is in Christ Jesus our Lord."
June 12, 1914.
CONTENTS
III. THE BEGINNING OF SEVENTY YEARS OF THOUGHT
VIII. "ACCA NADA" — NOTHING THERE
XIII. THE LONG SHADOW OF DEATH
XIV. THE SHADOW AND THE EVENING STAR
XVII. A STEP INTO LIVING HISTORY
XXI. THE LAND OF BEULAH AND THE RIVER'S BRINK
15-20% DISCOUNT
on Sets of Inheritance Publications
* * *

Now 16 Books Available*)
Place an order for Eleven republished books by Deborah Alcock,
RT02 CRUSHED YET CONQUERING-BOHEMIA - ALCOCK, DEBORAH - 1-894666-01-1 (32) - US$ 19.95
RT03 ROMAN STUDENTS - RENAISSANCE - ALCOCK, DEBORAH - 9781928136934 - US$ 17.90
RT04 ROMANCE OF PROTESTANTISM - ALCOCK, DEBORAH - 0-921100-88-4 (52) - US$ 12.95
RT08 UNDER CALVIN'S SPELL-REFORMATI - ALCOCK, DEBORAH - 1-894666-04-6 (44) - US$ 14.95
RT09 PRISONERS OF HOPE - ALCOCK, DEBORAH - 9781894666077 - US$ 9.90
RT10 SPANISH BROTHERS - REFORMATION - ALCOCK, DEBORAH - 1-894666-02-X (32) - US$ 14.95
RT13 DOCTOR ADRIAN - OLD HOLLAND - ALCOCK, DEBORAH - 1-894666-05-4 (40) - US$ 15.95
RT15 NOT FOR CROWN OR SCEPTER-SWEDE - ALCOCK, DEBORAH - 9781928136286 - US$ 25.90
RT18 KING'S SERVICE - GUST.ADOLPHUS - ALCOCK, DEBORAH - 9781894666060 (72) - US$ 11.95
BY FAR EUPHRATES -19TH CENT.ARMENIA - ALCOCK, DEBORAH - 1-894666-00-3 (48) - US$ 14.95
CZAR, THE - TIME OF NAPOLEON - ALCOCK, DEBORAH - 9781894666114 (36) - US$ 19.95
and five books of the Reformation Trail Series by other authors
RT01 HUBERT ELLERDALE - WYCLIFFE by RHIND, W. OAK - 0-921100-09-4 (44) - US$ 12.95
RT07 JOHN CALVIN: GENIUS OF GENEVA by PENNING, LAWRENCE - 1-894666-77-1 (56) - US$ 19.95
RT11 UNDER THE INQUISTION - ITALY by WALSHE, ELIZABETH H. - 9781894666305 (44) - US$ 17.95
RT12 CORONATION OF GLORY -LADY GREY - MEROFF, DEBORAH - 0-921100-78-7 (32) - US$ 17.90
RT17 DAYS OF PRINCE MAURITS-NUTTING by NUTTING, MARY O. - 9781928136910 - US$ 25.90
Regular US$ 273.95
Special US$ 231.95
*) If you own certain titles already, please let us know which ones you have and you can get all the others at 15% discount.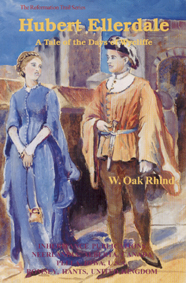 RT01 Hubert Ellerdale by W. Oak Rhind
A Tale of the Days of Wycliffe
Christine Farenhorst in Christian Renewal: Christians often tend to look on the Reformation as the pivotal turning point in history during which the Protestants took off the chains of Rome. This small work of fiction draws back the curtains of history a bit further than Luther's theses. Wycliffe was the morning star of the Reformation and his band of Lollards a band of faithful men who were persecuted because they spoke out against salvation by works. Hubert Ellerdale was such a man and his life (youth, marriage, and death), albeit fiction, is set parallel to Wycliffe's and Purvey's.
Rhind writes with pathos and the reader can readily identify with his lead characters. This novel deserves a well-dusted place in a home, school, or church library.
Time: 1380-1420 Age: 13-99
ISBN 0-921100-09-4 US$12.95
qqdqq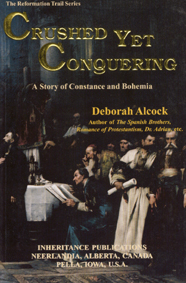 RT02Crushed Yet Conquering
by Deborah Alcock
A gripping story filled with accurate historical facts about John Huss and the Hussite wars. Hardly any historical novel can be more captivating and edifying than this book. Even if Deborah Alcock was not the greatest of nineteenth century authors, certainly she is our most favourite.
— Roelof & Theresa Janssen
Time: 1414-1436 Age: 11-99
ISBN 1-894666-01-1 US$19.95
qqdqq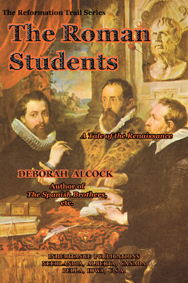 RT03 The Roman Students by Deborah Alcock
A Tale of the Renaissance
Raymond felt the force of the last argument. Besides, he could not contend the point; his schoolfellow had him in his power. A little water from the crystal flask that lay on the table, a fine white kerchief from the looms of Cambray, and a pair of gentle, firm, skilful hands soon accomplished the task. Theodore's words sometimes missed their aim, and hurt where they meant to heal, his fingers never. Their very form — long, slender, sensitive — evidenced at once fineness of perception and exquisite dexterity.
Meanwhile the schoolfellows talked of the unfair and dastardly conduct of the Nicoloti, and formed plans of revenge. What they said was commonplace enough, but they speedily established a friendly understanding with each other.
"I had not known you were destined to be a physician," said Raymond. "Is not that to sacrifice your genius and your learning?"
Time: 1440s Age: 15-99
ISBN 978-1-928136-93-4 US$17.90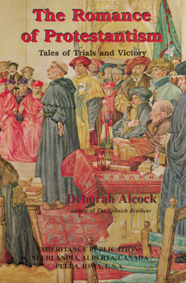 RT04 The Romance of Protestantism by Deborah Alcock
A wonderfully warm and loving book about the beauty of Protestantism. This topic, too often neglected and forgotten, has been revived by the author in a delightful way. Glimpses of our Protestant history are strewn in our path like jewels, whetting our appetite to read on and discover the depth of our history. Too often our role models tend to be found outside of our Christian heritage "to the neglect of the great cloud of witnesses, the magnificent roll of saints, heroes, and martyrs that belong to us as Protestants." This book is not only for adults. Young people and even older children will find riches in its depth which will encourage and build up to carry on the work of God in our own day and age.
— Theresa E. Janssen, home educating mother
Time: 1300-1700 Age: 12-99
ISBN 0-921100-88-4 US$12.95
qqdqq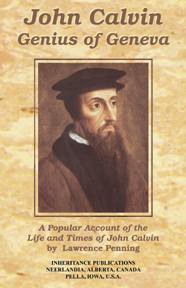 RT07 John Calvin: Genius of Geneva by Lawrence Penning
A Popular Account of the Life and Times of John Calvin
The publishing of this book is a direct fruit of the reading and publishing of Under Calvin's Spell by Deborah Alcock which is a great novel and gives a very good description of life in and around Geneva. However it tells little about Calvin himself. As a result I read Penning's book and was quickly convinced that both books should be published as companion editions, Alcock's book being the introduction and Penning's book the "full" story. Also today the world needs to know it's most important historical facts and since upon the mouth of two witnesses the truth of a matter is to be established we send out in these two books the true story of John Calvin.
Calvin is perhaps the most important person who lived after Biblical times (seconded by Martin Luther, William of Orange, Michael de Ruyter, and William III of Orange). To know and understand how the Lord has used these people in the history of His Church and world will stir in any reader the desire to follow them in their footsteps. Roelof A. Janssen
Time: 1509-1564 Age:15-99
ISBN 1-894666-77-1 US$19.95
qqdqq
RT08 Under Calvin's Spell by Deborah Alcock
A Tale of theHeroic Times in Old Geneva
They had now reached the Forte Neuve, by which they entered the town, with many others who were returning from the Plain-palais. As they walked along the Corratorie they met Berthelier and Gabrielle, taking the air, as the afternoon was very fine for the season of the year. Both the lads saluted; De Marsac with a flush and a beaming smile.
"I did not know you knew them," said Norbert.
"Oh yes; did I not tell you I was going to see them? Master Berthelier's sister, Damoiselle Claudine, and I are fast friends. Some years ago when I came here first, a mere child, I was one day in the market, looking about me and buying cherries or the like, when I saw this poor damoiselle being frightened half out of her senses by a group of angry, scolding fish-women. That was before such good order was put in the market, and in all the town, thanks to Master Calvin. She had told them, quite truly, that they were trying to cheat her. I fought her battle with all my might, which in truth was not great, and at last brought her home in triumph. She was much more grateful than the occasion required, and has been my very good friend ever since. I — they — they are all good to me, though lately, being much occupied with my studies, I have seen them but seldom."
"Do you not think the young damoiselle very pretty?" asked Norbert. "I do."
"She is beautiful," Louis answered quietly; and the subject dropped.
Time: 1542-1564 Age:14-99
ISBN 1-894666-04-6 US$14.95
qqdqq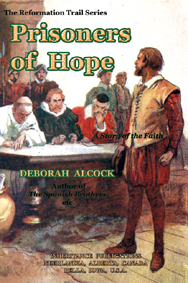 RT09 Prisoners of Hope by Deborah Alcock
A Story of the Faith
"Not my sister," interposed Will.
"I thought her your sister — but no matter. It makes no difference. You will take my message all the same. Have a care of the lantern, Boy; you will let it fall. Look! The light is out. Well, no harm is done; we will soon be at the clearing now, and in full daylight. I was saying — if you love me, Will, and that I am sure you do — say to Maria that the word we spoke to one another lies ever between us, and God heard it."
Will was silent from amazement, perhaps from something else.
"Do you hear me, Friend?" asked Bilek.
"Yes, I hear," faltered Will.
He felt as if a great stone had fallen on him and crushed him. In his pain he said a thing which perhaps, under all the circumstances, was not wise or generous.
Time: 1548-1560 Age: 14-99
ISBN 978-1-894666-07-7 US$ 9.90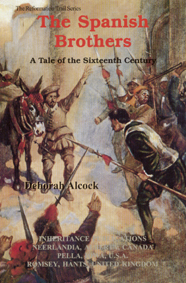 RT10 The Spanish Brothers by Deborah Alcock
A Tale of the Sixteenth Century
"He could not die thus for his faith. On the contrary, it cost him but little to conceal it. What, then, had they which he had not? Something that enabled even poor, wild, passionate Gonsalvo to forgive and pray for the murderers of the woman he loved. What was it?"
Time: 1550-1565 Age: 14-99
ISBN 1-894666-02-x US$14.95
qqdqq
RT11 Under the Inquisition by Elizabeth H. Walshe
A Story of the Reformation in Italy
"You have forgotten that you should confess Christ's Name; and do you not remember, O deluded people, that whoever confesses not Christ upon earth, shall be denied by Him before His Father and the holy angels? Certainly you are not alone in this backsliding. There may be some in our valleys of the Alps who carry with them certificates that they are genuine papists, and have their children baptized by priests with all the mummeries of superstition, yes, and go to the so-called sacrifice of the mass, openly bowing the knee to Baal, that they may be seen of men; and they excuse themselves — verily a fancied excuse! — by saying secretly when they enter the mass house, 'Cave of robbers, may God confound you!' I have heard that similar practices extend even here. My brothers, such duplicity is intolerable to the righteous Lord. Do you think that He will not protect the men who range themselves under His banner against Antichrist, in the face of all the world? I tell you, that if all the devils on earth and in hell were leagued to destroy you, mightier is He that is for you than all that can be against you! Your Father can sheath the sword and quench the faggot of the persecutor, if it is His will; and if it is not His will — O servants of Christ! Will there not be a quicker entrance into the joy of your Lord, and a more dazzling crown of glory!"
Sobs and moans came from that excitable southern audience; glowing eyes, betokening glowing hearts, met the youthful preacher's every look.
. . . Thus Paschali enunciated the principles which were to guide his ministry.
Time 1554-1563 Age: 14-99
ISBN 978-1-894666-30-5 US$17.95
qqdqq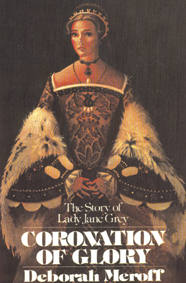 RT12 Coronation of Glory by Deborah Meroff
The true story of seventeen-year-old Lady Jane Grey, Queen of England for nine days.
"Miss Meroff . . . has fictionalized the story of Lady Jane Grey in a thoroughly absorbing manner . . . she has succeeded in making me believe this is what really happened. I kept wanting to read on the book is full of action and interest."
Elisabeth Elliot
Time: 1537-1554 Age: 14-99
ISBN 0-921100-78-7 US$17.95
qqdqq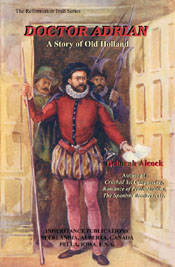 RT13 Doctor Adrian by Deborah Alcock
A Story of Old Holland
Doctor Adrian was a scholar living in quiet seclusion in Antwerp, the Netherlands, until a fugitive Protestant preacher and his daughter Rose sought sanctuary in his rooms. Before he knew it, he became involved with the Protestant cause, and eventually embraced it in theory. When the persecution of the Reformed was stepped up, Doctor Adrian made the dangerous journey to Leyden with his family. They survived the siege of Leyden, along with Adrian's sister Marie. When the siege was lifted by the fleets of William of Orange, they moved to Utrecht. Doctor Adrian's faith in the Reformed religion died when he experienced the loss of some of his loved ones, but a new faith in the Author of that religion took its place.
This is a tale of a doctor and his contact with William, Prince of Orange, and of his spiritual journey.
Time: 1560-1584 Age: 12-99
ISBN 1-894666-05-4 US$15.95
qqdqq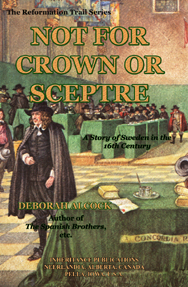 RT15 Not for Crown or Scepter by Deborah Alcock
A Story of Sweden in the 16th Century
The Reformation Trail Series
Pastor Sten Nilson, a tall, noble-looking man, stood up to welcome his brother, with a smile on his lips and a glad light in his frank blue eyes. But the next moment he drew back disappointed, and even a little annoyed; for "mine host" was ushering in a stranger, an elderly man in a fur coat, holding by the hand a little boy about seven . . .
[The boy asked] with a half timid, half confiding air, "What book is that?"
Surprised at the question from so young a child, the Pastor answered, "It is the Red Book, my son."
The boy looked up indignantly, all his shyness gone. " 'Tis not red," he said, " 'tis brown, nearly black. I thought pastors always spoke the truth."
ISBN 978-1-928136-28-6 US$25.90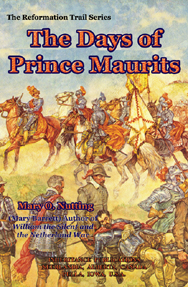 RT17 The Days of Prince Maurits by Mary O. Nutting (Mary Barrett)
The Story of the Netherland War from the Death of William the Silent to its Close 1584-1648
The period during which Maurits of Nassau was the leader of the Netherland people is one which claims attention, not only on account of its exciting and memorable events, but even more because of its intimate connection with the subsequent history of England and of America. The writer has aimed to tell the story so that it shall be neither too long to be easily read, nor so condensed as to seem dry.
Among the works most consulted have been those of Motley, Davies, and Grattan, together with Rogers' "Story of Holland" and Markham's "The Fighting Veres." Some original authorities also have been used, particularly Meteren's "History of the Low Countries," and "Les Lauriers de Nassau," by Orlers and Haestens, a very rare book published at Leyden in 1612, which narrates the victories won while Prince Maurits was commander-in-chief. It is illustrated with many careful representations of battles and sieges, and gives an excellent portrait of the prince, which is reproduced here.
Time: 1584-1648 Age: 13-99
ISBN 978-1-928136-91-0 US$25.90
RT18 The King's Service by Deborah Alcock
A Story of the Thirty Years' War
Once again Deborah Alcock has delicately woven together an accurate historical novel. This book gives wonderful insights into some of the events surrounding the thirty-years-war in which Gustavus Adolphus of Sweden gives his life for the Protestant cause. But even amidst the ravages of war life continues to weave its story of intrigue, romance, loyalty, and treason.
Two motherless children, Jeanie and Hugh, have been in the care of their Uncle Charlie ever since their father left about eight years earlier to fight for the Protestant cause. Uncle Charlie, a restless bachelor, subsequently leaves the bulk of Jeanie and Hugh's upbringing to the Presbyterian minister. He faithfully teaches these orphaned children the beautiful tenets of the Reformed faith. But when Uncle Charlie decides to leave his beloved Scotland to join the army of Gustavus Adolphus in Germany, Hugh wants to go along. Jeanie will go along as companion to Captain Stuart's wife and meets Fraulein Gertrud von Savelburg in Germany. Sifting through the reports and rumours of the times she comes to some disturbing and perplexing conclusions. What has made Uncle Charlie so sad, and why does a Roman Catholic priest regularly visit Hugh? And then there is Jonker August von Lübeling, a page of Gustavus Adolphus, who alone knows the true reports of the King's last hours. He promises Jeanie a Nuremberg egg, but not understanding German ways she misconstrues the meaning of this promise. Will she accept his precious gift?
Time: 1630-1632 Age: 12-99
ISBN 978-1-894666-06-0 US$11.95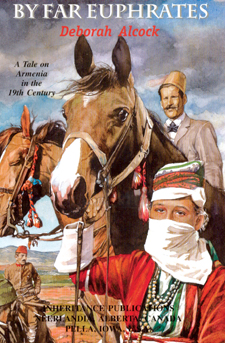 By Far Euphrates by Deborah Alcock
A Tale on Armenia in the 19th century
Alcock has provided sufficient graphics describing the atrocities committed against the Armenian Christians to make the reader emotionally moved by the intense suffering these Christians endured at the hands of Muslim Turks and Kurds. At the same time, the author herself has confessed to not wanting to provide full detail, which would take away from the focus on how those facing death did so with peace, being confident they would go to see their LORD, and so enjoy eternal peace. As such it is not only an enjoyable novel, but also encouraging reading. These Christians were determined to remain faithful to their God, regardless of the consequences.
Time: 1887-1895 Age: 11-99
ISBN 1-894666-00-3 US$14.95
Special Package Sets at 15-20% discount
Send mail to orders@inhpubl.net with questions or comments about this web site.
Last modified: June 27, 2016