Huguenot Inheritance Series
N.B. Vol. 1, 2, and 4 are ideal for 11-99 year olds while the other volumes are better for about 14 and up.
(Place order for Huguenot Inheritance Series set of 10 and save 15%)
SET OF 10 HUGUENOT INHER-REG. 135.25 - ALCOCK, DEBORAH - - US$ 114.85*)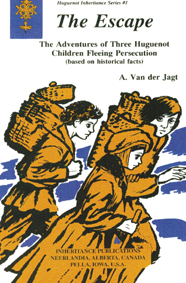 The Escape by A. Van der Jagt
The Adventures of Three Huguenot Children
Fleeing Persecution
Huguenot Inheritance Series #1
F. Pronk in The Messenger: This book . . . will hold its readers spellbound from beginning to end. The setting is late seventeenth century France. Early in the story the mother dies and the father is banished to be a galley slave for life on a war ship. Yet in spite of threats and punishment, sixteen-year-old John and his ten-year-old sister Manette, refuse to give up the faith they have been taught.
Time: 1685-1695 Age: 12-99
ISBN 0-921100-04-3 US$11.95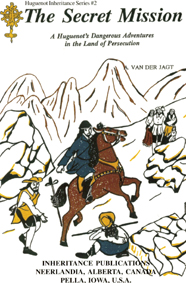 The Secret Mission
by A. Van der Jagt
A Huguenot's Dangerous Adventures
in the Land of Persecution
Huguenot Inheritance Series #2
In the sequel to our best-seller, The Escape, John returns to France with a secret mission of the Dutch Government. At the same time he attempts to find his father.
Time: 1702-1712 Age: 12-99
ISBN 0-921100-18-3 US$14.95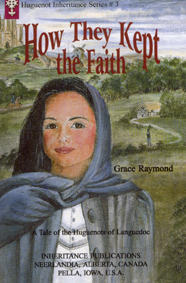 How They Kept The Faith by Grace Raymond
A Tale of the Huguenots of Languedoc
Huguenot Inheritance Series #3
Christine Farenhorst in Christian Renewal: Presenting a moving account of the weals and woes of two Huguenot families during the heavy waves of persecution in seventeenth century France, this book, although its onset is a bit slow, is fascinating and moving reading. Covering all aspects of Huguenot life during this difficult time period, this goodsized paperback volume is a well-spring of encouragement for Christians today and highly recommended as reading for all those age twelve and over.
Time: 1676-1686 Age: 13-99
ISBN 0-921100-64-7 US$19.95
The Young Huguenots by Edith S. Floyer
Huguenot Inheritance Series #4
It was a happy life at the pretty chateau. Even after that dreadful Sunday evening, when strange men came down and shut the people out of the church, not much changed for the four children. Until the soldiers came . . .
Time: 1686-1687 Age: 11-99
ISBN 0-921100-65-5 US$11.95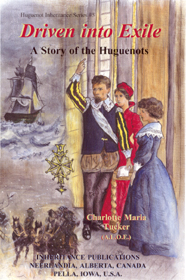 Driven into Exile
by Charlotte Maria Tucker
A Story of the Huguenots
Huguenot Inheritance Series #5
Christine Farenhorst in Christian Renewal: "Set in the days following the Revocation of the Edict of Nantes, (an edict in effect from 1598-1685 providing religious freedom for the French Protestants), this story follows the lives of two Huguenot families. Losing all to remain constant, the La Force family flees to Britain, while the Duval family remains in France. Suspenseful, the unfolding panorama of persecution and intrigue is well-suited for twenty-first century church goers who take freedom of religion for granted."
Time: 1685-1695 Age: 13-99
ISBN 0-921100-66-3 US$9.95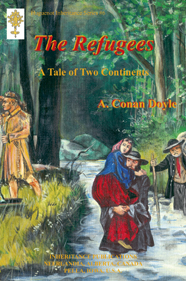 The Refugees by A. Conan Doyle
A Tale of Two Continents
Huguenot Inheritance Series #6
The Refugees is a fast-paced exciting historical novel filled with daring and adventure. It depicts the escape of Louis De Catinat and his cousin from France after the revocation of the Edict of Nantes in 1685. Fleeing aboard a merchant vessel they attempt to reach America but find themselves stranded on an iceberg. The result is a hazardous trek through Canadian forests, avoiding both Roman Catholic Frenchmen and savage Indians.
Follow the adventures of well to do people, bereft of all convenience and fleeing for their lives to seek refuge in a country where freedom of religion returns stability to their lives.
Time: 1685-1686 Age: 12-99
ISBN 0-921100-67-1 US$17.95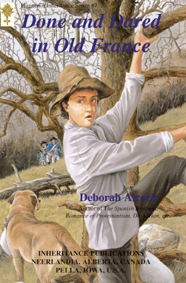 Done and Dared in Old France by Deborah Alcock
Huguenot Inheritance Series #7
Christine Farenhorst wrote in Christian Renewal: Ten-year-old Gaspard, accidentally separated from his parents, is raised by a group of outlaw salt runners who fear neither God nor man. . . . Through the providence of God, Gaspard's heart turns to Him in faith and after a series of adventures is able to flee France to the safer Protestant shores of England. Fine and absorbing reading. Deborah Alcock has wonderful vocabulary, is a marvelous story-teller, and brings out the amazing hand of God's almighty power in every chapter. Highly recommended.
Time: 1685-1697 Age: 11-99
ISBN 1-894666-03-8 US$14.95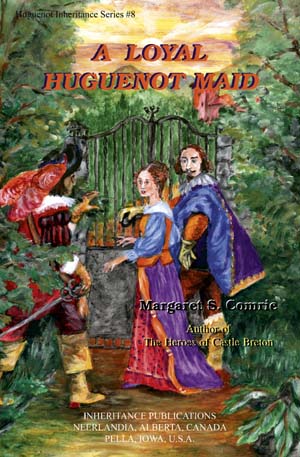 A Loyal Huguenot Maid
by Margaret S. Comrie
Huguenot Inheritance Series #8
Azerole, a young fugitive, was serving at Castle Brianza at Piedmont as governess to Madame de Rohan's crippled and plaintive foster son Christophe. But Azerole was a Huguenot maid, and Castle Brianza was ardently Roman Catholic. Madame's son Gaston, who was serving in the French army, was said to be a fiery Roman Catholic and tolerated no Protestants. What would happen to Azerole when he came home?
Azerole and her brother Léon struggle amid many troubles to keep their faith alive. When Michel unexpectedly comes on the scene a new unforseen danger lurks in the shadows. Would these two young Huguenots remain safe under the roof and shadow of Castle Brianza?
Time: 1686-1690 Age: 12-99
ISBN 9780921100683 US$15.95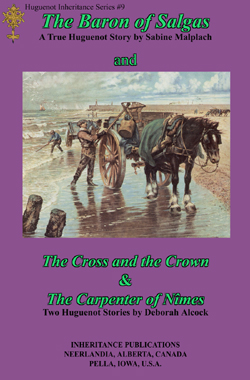 The Baron of Salgas A True Huguenot Story by Sabine Malplach
and: The Cross and the Crown & The Carpenter of Nîmes
Two Huguenot Stories by Deborah Alcock
Huguenot Inheritance Series #9
The Cross and the Crown tells about a man by the name of Gabriel Vaur. After the Revocation of the Edict of Nantes (1685), life once again became very dangerous for the Huguenots in France. When the Dragonnades came, Gabriel tried to get help, leaving his father, sister, and brother behind. Would he ever see them again? Would he ever be able to flee France and reach England?
The Baron of Salgas is the true story of the Baron and Baroness de Salgas. Even though her husband forbids her to be an open Huguenot, the Baroness knows that her Saviour had said that whoever would deny Him would be denied by Him. So one night she made her escape to Geneva. Would her husband follow? Would he recant? What would happen to their sons who were taken to the convents?
The Carpenter of Nîmes goes back more than a century to the year 1569 and tells about a man named Jacques Maderon. When the pastor tells him that Christ had said, "Son, go work today in My vineyard," he knows it is time to do something. Then the father of his friend was imprisoned. Would he succeed to cut the bars of the gate and so make way for the Huguenots to enter the city and deliver it?
Time: 1568-1715 Age: 13-99
ISBN 978-0-921100-69-0 US$14.95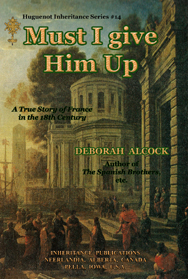 Must I Give Him Up by Deborah Alcock
A Story of France in the 18th Century
Huguenot Inheritance Series #14
Among those who could not get away was an aged man, who had almost fulfilled his fourscore years of life. Him the soldiers took, and were leading him away to prison. His son, who was in another part of the Assembly, knew nothing of it until, having reached a place of safety, he sought everywhere for his father, and could not find him. His young active feet soon retraced their steps. He met the soldiers with their captive on their way to the town. Madly Fabre threw himself into their midst, and made a wild despairing effort to tear their prisoner from their grasp. Vain — vain of course! What could one man, alone and unarmed, do against a band?
Time: 1760s Age: 12-99
ISBN 978-1-77298-005-9 US$8.90
Huguenot Inheritance Series #10 -13 are due to be published soon as well.
*) If you own certain titles already, please let us know which ones you have and you can get all the others at 15% discount.